We are ringing in the new year in style at Royal Belize. Time flies when you're having fun and we've been having a blast creating "WOW!" vacation experiences for the world's most discerning travelers. In 2018 we added new amenities to the island and increased our commitment to sustainability and philanthropy, making Royal Belize the Caribbean's most desirable exclusive-use private island.
Introducing the Royal Bunkhouse
The latest addition to the island sleeps up to 6 in twin-sized beds with all the comfort guests are accustomed to on Royal Belize. With this, we can now accommodate up to 16 guests at a time.
See Belize from a whole new perspective with our in house dive operation, Belize Underwater! Belize Underwater hosts incredible scuba diving and snorkeling in the best dive sites in the country! Visit the Blue Hole, South Water Caye, Glover's Atoll, or Turneffe Island. Don't worry if you aren't certified - we can teach you and take you on a dive in just one day with the Discover SCUBA offering.
"Oscar, Pele, Elder, Glenda & Thibault - this team was the most amazing group of wonderful people I have ever experienced! The sweetness and attention to detail is beyond anything I have experienced anywhere in the world. Thank you for being the highlights of this wonderful vacation."
- Caroyln and Albert, September 2018
"An idyllic island to relax, catch up on sleep, catch up with friends and family. Perfect weather, fluffy clouds, warm waters, beautiful fish. We were taken care of so beautifully by the entire staff at Royal Belize. We will miss their smiles, we will miss the big Jenga, we will miss our laughter around the fire eating s'mores. We will miss the water, we will miss the fish - we will remember it all."
- Edelman Family, November 2018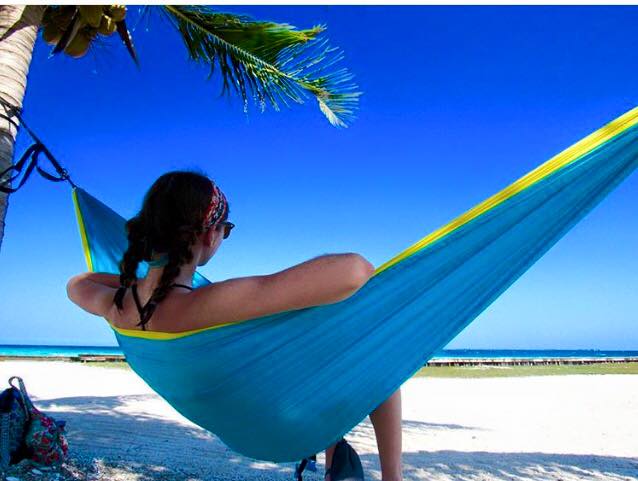 "Thank you for our stay in Paradise! The hospitality, service and friendly staff made up for the "uninvited" rain... but a little rain didn't stop us! We enjoyed the good food (and coffee and orange juice), the fishing (fly, reef, and deep sea), the snorkeling, the relaxing in the hammock, the kayaking, the scuba diving, the culture, the paddle boarding, searching for sea life (sharks, fish, rays, crabs, etc.), and the games (Jenga, corn hole, Bocce ball, volleyball). Thank you to everyone for our wonderful adventure!!"
- Nancy, November 2018
Royal Belize Team Member Spotlight
Meet Elder Fuentes!
Elder is the Royal Belize team member most likely to be confused for an eighth grader, but this full-grown adult is a guest service rock star.
His friends call him Gecko and after ten months of working on the island he has a lot of friends. Yes, he is single and, no, you can't take him home with you (even if he might fit in your suitcase).
When he is not on the island entertaining guests, Elder lives in a small community outside of Hopkins named Silk Grass where he enjoys spending time with family and friends. His parents, Francisco and Lurvin, are originally from Honduras but Gecko consider himself to be a true Belizean.
Gecko loves taking guests out to the Belize Barrier Reef and won't let you leave without snorkeling this incredible natural wonder. His recipe for super fresh minty mojitos is a secret that satisfies every time. If he is cooking for himself, he'll make chicken escabeche. If you get a taste you'll know why it is his favorite dish. He recommends the behind-the-scenes VIP tour of the Belize Zoo to guests. Who wouldn't want to be licked by a jaguar?
Elder's tenure at Royal Belize has been marked with rapid learning and development that has led to increased responsibility. He considers everything his job and he always does it with a smile. Come to Royal Belize and get to know this fantastic young man.
Royal Belize Recipe Round-Up
Enjoy a piece of your island vacation from your home.
Whip up a Muy'Ono Mojito and imagine you are back at Royal Belize!
Add mint leaves to a tall glass and lightly muddle to release the flavors. Add in the lime juice, sugar syrup and 1/4 cup of crushed ice. Stir gentrly before adding the rum and bitters. Fill the glass the rest of the way with crushed ice. Stir gently, and garnish with two mint leaves tucked on top.
Salud!
We're Committed to Community
Every guest makes a difference. How?
LOCAL CHARITIES
Each month we partner with a worthy local organization, donating $100 per night sold, and we encourage guests to participate as well. In 2018, Royal Belize donated over $19,000 to local charities including the Maya Center Library, Cayo Deaf Institute, and the Spanish Lookout Mission School just to name a few!
PACK FOR A PURPOSE
We are proud members of Pack For A Purpose, an initiative that allows travelers to make a lasting impact in the community by saving room in their suitcase to bring supplies to donate to those in need. Through this program, Royal Belize supports the Southern Regional Hospital In Dangriga, allowing guests to help provide basic materials used for patients' medical needs.
CHARITY AUCTIONS
Royal Belize offers a highly discounted 5 night stay to select charity auctions on consignment. These trips have sold well above market value at several events and raised hundreds of thousands of dollars for non-profit organizations around the world. The top fundraising group of 2018 raised over $100,000, and in total we helped deserving organizations raise over $400,000. Contact us for more information!
Keep up to date with Royal Belize on social media: